The #1 AC Repair Team in Las Vegas
At The Cooling Company, we fully understand the frustration of having an air conditioner that isn't working the way it should. Especially during a hot summer day in the desert, you can't afford to be without cooling. That's why homeowners turn to our team for responsive, reliable, and reputable AC repairs in Las Vegas, NV! Our friendly and highly experienced technicians will work hard to fix your AC fast, especially during the hottest days of summer. All of our AC service vehicles carry an extensive selection of common replacement parts, allowing our technicians to handle most AC repairs in just a single visit.
Trusted Las Vegas AC Service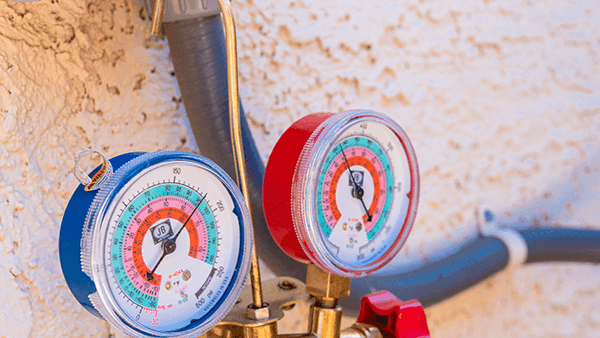 When your air conditioner breaks down, it's a stressful and uncomfortable experience. The good news is that in most cases, air conditioners breakdown doesn't happen out of the blue. At the first sign of trouble, let us know! Leaving issues unattended can lead to more costly repairs down the line, and they certainly won't fix themselves. We know homeowners may be worried about the cost, but it's almost always more prudent to fix smaller matters instead of allowing them to develop into either a much more expensive repair or a total system breakdown. Let our technicians handle that noise, leak, or other issue for you today! We'll accurately diagnose the problem and give you our honest opinion without any hassle or sales pitches. Our team is simply here to help you stay comfortable, and that all starts with offering the best AC service in Las Vegas.
Signs like the following are all indicators that your AC system may need repairs:
Cooling is uneven in your home
Your home is too warm
Your home is humid
Your energy bills are going up
Your air conditioner makes strange noises
Airflow is low
Fluid is pooling around your air conditioner
Below are some common causes of air conditioner breakdown that an HVAC technician may bring to your attention:
The Coils Have Frozen
Refrigerant Is Leaking
Common sources of a refrigerant leak include:
Vibration damage
Weakened joints or connections in the heat pump or air conditioner
Indoor coil corrosion due to pollutants such as air fresheners
Chemical cleaners
Hair spray
Strained Capacitors and Contactors
Electrical Problems
The Blower Fan Is Damaged
The Thermostat Is Defective
The System is Older
The most common air conditioner malfunctions that Las Vegas and Henderson homeowners face include:
Issues with the condenser, coil, or fan
Low refrigerant normally due to a leak
Broken or faulty thermostats
Condenser capacitor from debris and lack of maintenance
Wiring problems
Additional issues caused from not changing the air filters inside of your home

Is AC Repair or Replacement Better?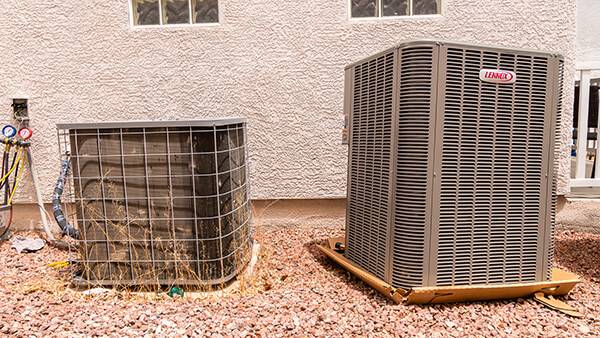 It's a common question we get from homeowners wondering if a repair is worth it or if it's simply time to look into a new air conditioner. We can help you look at your options, and give you our expert opinion on the matter to help you save money and determine the best long-term course of action. In some cases, a repair is certainly worth it, especially if the system is newer and still meeting your cooling needs. For older, less reliable systems, it might make more sense to consider a replacement, depending on the nature of the repair needed.
In either case, expect nothing short of premium, responsive AC service from our team at The Cooling Company. There's a reason why our customer base continues to grow in number of satisfied clients!

Call Today for AC Service in Las Vegas
Bring Your Comfort Back To You
At The Cooling Company, we go the extra mile to ensure that the repair of your air conditioner is a hassle-free experience from start to finish. If your AC breaks down, we've got you covered with same-day service and the best technicians in Las Vegas. Our licensed and certified AC repair professionals have years of experience in repairing all kinds of cooling systems, from the smallest ductless split air conditioner to the huge models designed to cool complex warehouses. If you need a fast quote for scheduled or emergency repairs, please call The Cooling Company at (702) 567-0707. We can also handle heating repairs!
Looking for the best AC Repair Service? The Cooling Company is the place to call! (702) 567-0707

Fast, Convenient AC Repair
Specializing In Air Conditioning Repair In Las Vegas
Replace
At The Cooling Company, it's important to us that you make the best decision for your family when it comes to replacing your air conditioning and heating systems.
Maintain
Our maintenance options are unlike the others. We focus on comprehensive inspections that help keep your systems running at optimum levels year after year.