Great Service For Great People
At The Cooling Company (TCC), we believe you should always be treated with the utmost respect, honesty, and care. Therefore, we're committed to providing you with the best AC repair services possible.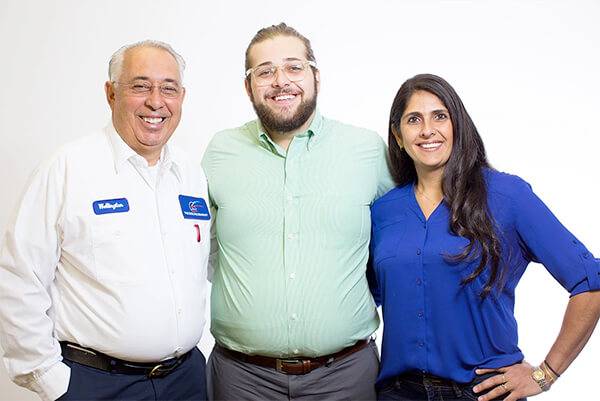 Establishing our business in Nevada in 2011, we have come to know what it takes to be successful in this industry.
Family Owned With Family Values
The Cooling Company is family owned and operated. We seek to form long-term relationships with our clients. Therefore, we perform above and beyond customer expectations on every job. Here at The Cooling Company, we are so confident you will be happy with our service that we provide a 100% Customer Satisfaction Guarantee on every job. Our goal is to become your go-to HVAC service provider for all your HVAC, air quality, and in-home comfort needs.
Wellington and Joanna Santana, our founders, arrived in America with only two things to help provide a better future for their family: $300 in their pocket and a dream in their hearts. So, eager to find an American career that he could direct his passion toward, Wellington decided to return to the books and learn the HVAC trade. After graduating and gaining all of his necessary certificates, Wellington started working as an HVAC technician. For almost a decade he worked with leading HVAC companies as an HVAC technician.
Years of taking notes in his pocketbook went by when Wellington and his family decided to take the leap of faith and trust themselves to go through the process of opening The Cooling Company. Wellington started working on what he knew best, HVAC. Their son, Tiago, was initially asked to help grow and manage the company, serving as the CEO. Since then, their son Tiago has moved on to pursue other opportunities. Today, Wellington and Joanna Santana manage the operations of the company together as co-CEOs.
Hot Summers and cooler winter temperatures in Henderson and the surrounding areas can reach extremes. Having a reliable HVAC system in your home is essential. We primarily work with Lennox products and can offer financing options upon approved installation credit. In addition, we have more than 50 years of combined experience and can work on all makes and models of HVAC systems.
Our History as an HVAC Company
In February 2010, Wellington and his team built an entire management software from the ground up, specifically designed to fit the needs of the HVAC industry. He knew that with systems in place, he would be able to better service his clients. In February 2011, Wellington acquired the C-21 license in Nevada, allowing him and his future company to work as an official HVAC contractor. By March 2011, The Cooling Company had one van, three people, and one dream. The Santana family put everything they had on the line to serve the Las Vegas community. This leap of faith has resulted in TCC being able to serve the community with Transparency, Compassion, and Courage. TCC's core values.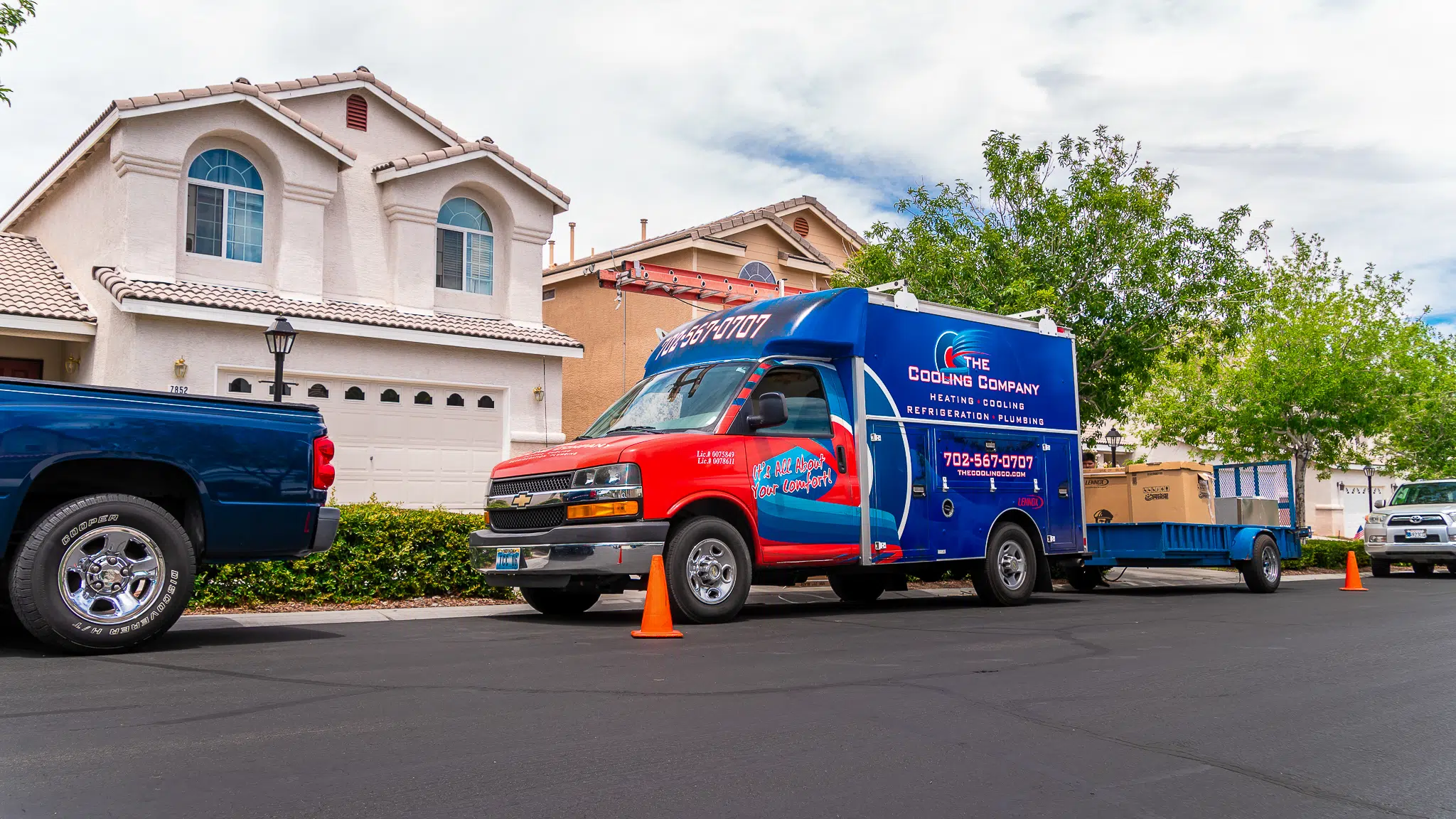 Did you know, about half of all businesses don't make it past the five-year mark? To us, that is wild. However, this statistic is one of the reasons why we work hard to keep our business honest, fair, and at a level that others can't compete. Our five-year celebration has doubled in our anniversary celebrations serving the northern Las Vegas community. A huge milestone for a resilient company that keeps on growing.
As Lennox Premier Partners, we are committed to only hiring skilled technicians with the abilities and knowledge to provide the best possible service.
Our EPA-certified technicians undergo an extensive interview, background check, and training process to ensure that only the best are stepping into your home. This way, we can ensure our company is represented by only the most capable HVAC technicians you will ever find.
We ensure our entire staff is drug and alcohol-free before entering your home. We take the safety of your family, home, and loved ones incredibly seriously. That is our guarantee from our family to yours.
Our job is not finished if you are not 100% satisfied with our services! We care about your home and guarantee only the best professional services. That is why we offer our 12-month buy-back guarantee! If you aren't satisfied with the system you bought, with our service, or with any detail, we will buy the system back from you for its entire value.
At The Cooling Company, we want to make our heating and AC services hassle-free.
Las Vegas AC Company You Can Depend on With Comprehensive Comfort Services
When you want your home in Las Vegas to stay comfortable throughout the year, The Cooling Company can help. We're highly experienced with all types of HVAC systems, and we can help you keep yours running like new. Since our technicians receive ongoing training throughout the year, they can resolve virtually any issue. Customer service is available 24/7 for emergency AC repair.
We take pride in all of our work, and we want our customers to have a great experience using our services. We also offer flexible scheduling to meet your needs. If you need air conditioning repair, installation, or maintenance, then we can help!
Top-Rated Air Conditioner Service in Las Vegas
Breakdowns with your AC always seem to occur at the most inconvenient times. Like a day when the thermometer exceeds the 100-degree mark. These conditions can drive an aging or faulty system beyond its capabilities.
Warm air coming out of your vents? TCC's professionals provide air conditioner repair services to residential customers in the Las Vegas area. Using only licensed and certified technicians, we ensure your system has as little downtime as possible, especially during the height of summer.
Our service vehicles carry a wide range of parts, allowing our HVAC technicians to service all AC makes and models on-site. We strive to give you the best recommendations while answering any questions you may have. For your convenience, we also offer both residential and commercial service contracts to suit your maintenance needs.
We provide cooling system support to residential and commercial clients.
In addition to failing parts, ventilation is another factor that plays a big part in your AC's efficiency and performance. Poor ventilation can mean uneven cooling, higher energy costs, weak airflow, and more. Let us know if you'd like us to analyze your current ventilation situation and help you improve things in your home!
Experienced Las Vegas AC Installations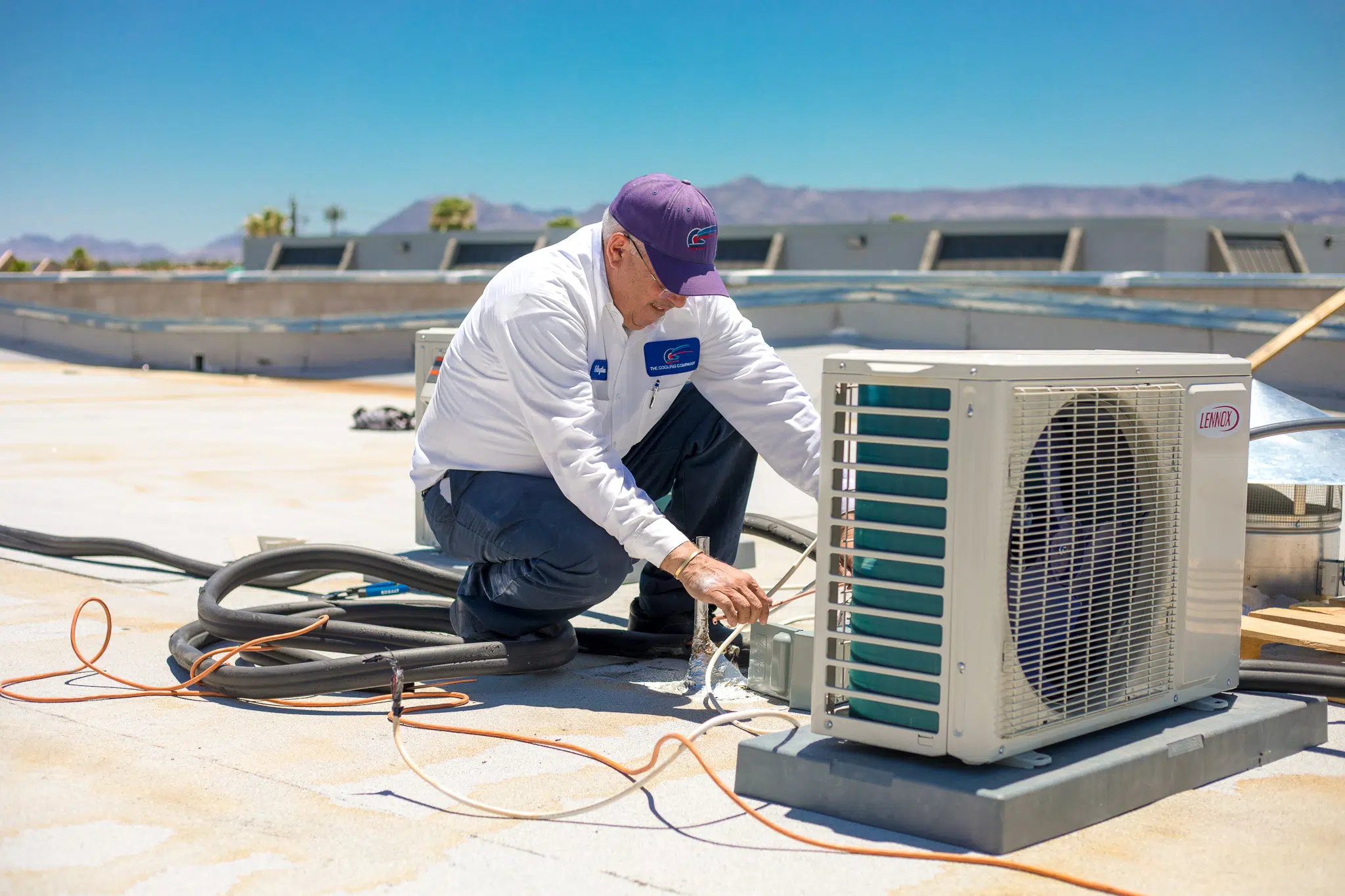 If your AC system is older and continually breaking down, it may not be economically feasible for you to keep spending money on repairs. However, a new central air conditioner can significantly improve your home's efficiency by requiring less energy to do its job. According to Energy.gov, today's top AC models use 30 to 50% less energy when producing the same amount of cooling as an older unit.
Does Your Air Conditioner Need to Be Replaced?
Another reason for needing an AC replacement is a Seasonal Energy Efficiency Ratio (SEER) rating of less than 14. Before 2006, the minimum required Seasonal Energy Efficiency Ratio (SEER) in Las Vegas was 10. Today, federal law sets the minimum SEER rating at 13, and the state of Nevada requires a SEER of 14. An older unit could cost you so much in a hot climate. Replacing the AC unit is often financially the right choice. New units will give you a new start with the best air, lower energy bill costs, and comfort. Let our Las Vegas HVAC company help you weigh your options!
Preventative AC Maintenance in Las Vegas
Did You Know AC Tune-Ups are Recommended to Be Made at Least Once a Year?
The best way to avoid expensive repairs, high energy bills, and needing a new air conditioner is by scheduling regular preventative maintenance for your AC system. Our highly skilled technicians follow a comprehensive 21-point checklist to ensure your entire system is inspected, tested, cleaned, and tuned for the best possible performance and efficiency. We want to pay close attention to all your AC needs.
Our 21-Point AC Tune-Up Inspection Will Help You Maintain Your AC Unit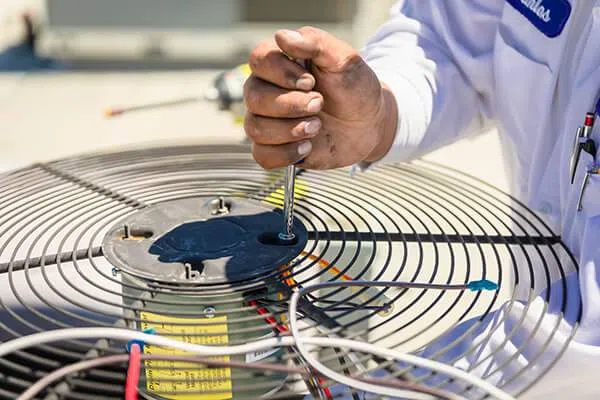 The Cooling Company goes the extra mile to ensure customer service. We want your emergency services or maintenance repair of your air conditioner to be a hassle-free experience with results that save you money.
If your AC system unexpectedly breaks down and you have an emergency, we will cover you with same-day servicing. In addition, we will thoroughly inspect your air conditioner to determine whether a repair or replacement would be the most viable option for you.
Our certified technicians have years of experience repairing, installing, and maintaining all HVAC systems. From the smallest ductless split air conditioner to huge models designed to cool complex warehouses, we can help! We also can give you a fast quote for your heating systems. Although we do not use the furnace much in Nevada, heaters are essential too for a few months out of the year.
Better System, Better Comfort
Our Awesome Technicians Can Make Your System Even Better
According to the U.S. Department of Energy, heating and cooling account for around 48% of your average energy bill. Fortunately, HVAC system enhancements can help your system use less energy while keeping your home comfortable. Below are some of the HVAC enhancements available at The Cooling Company. These can positively impact any home's air quality, temperature, and energy efficiency.
With Our Enhancement Services, You Can:
Programmable Smart Thermostats
Smart thermostats are the ultimate climate control resource. In addition to being more accurate than traditional thermostats, they offer greater control over the temperature and climate in your home and office.
Below are Some of the Many Benefits of Switching to a Smart Thermostat:
In many homes, the main level is comfortable while the second floor is sweltering. Zoning improves the efficiency of your HVAC system by allowing you to apply different temperature settings to different spaces. When a room reaches its required temperature, the dampers close, and the conditioned air supply stops.
Benefits of Installing a Zoning System Include:
An HVAC air purification system can improve your air quality. The reusable filters used in many HVAC units help eliminate dust from the air, but they don't have an appreciable impact on other contaminants that can affect your health. So instead, a central air purification system is installed in your ductwork and removes harmful elements like smoke, allergens, bacteria, and viruses from the air circulating throughout the building.
HVAC air purifiers can provide a safe and clean environment if your family suffers from allergies, asthma, and chronic respiratory problems.
Humidifier and Dehumidifier Systems
When the air is chilly and wet, it can make your home feel colder than it is, while dry air can affect your sinuses and leave you with dry, itchy skin. Many people purchase standalone dehumidifiers to control air quality in smaller spaces, but a more advanced solution for homes will be more effective.
A humidifier and dehumidifier system can be installed as an HVAC system enhancement to keep moisture levels balanced throughout your home. State-of-the-art systems have integrated sensors that test the humidity levels in the different rooms and spaces to adjust the level accordingly. When the indoor air is balanced and consistent in every room, you and your family will be healthier and feel more comfortable. That is so important in a dry, hot climate!
We believe there's always room for improvement, which also applies to your system. From changing components to adding an air purification system, you can make your system fit your home and your family's needs. All of this, of course, without breaking the bank.
If there's a component you need to change or ducts you need to clean, our employees are expert technicians, certified by the EPA, can take care of any replacement, installation, or enhancement.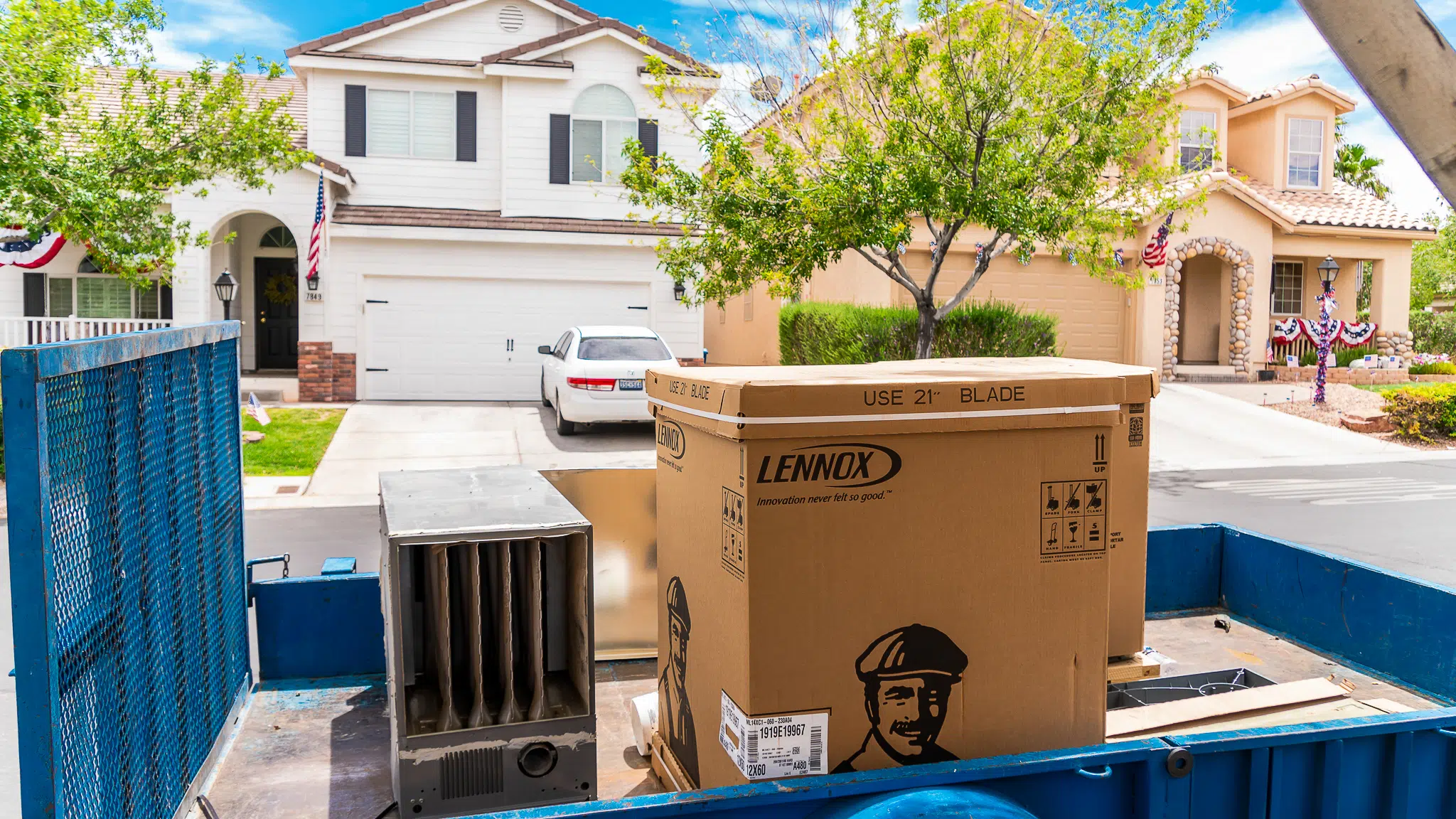 Improve the air quality (IAQ) of your existing system and home. The Cooling Company offers various HVAC system enhancements, from smart thermostats to leading-edge air purifiers. We are committed to providing our customers in and around Las Vegas Valley with innovative enhancements that increase comfort and convenience while saving you money. The brands we sell are known for their quality, innovation, energy efficiency, and sustainability. That way, you know you're getting a product that will deliver dependable comfort when and where you need it.
Our family of experts is passionate about providing quality, honest, and trustworthy HVAC services. With over 50+ years of combined experience of serving the Las Vegas and southern Nevada communities, we are proud to be your go-to heating and cooling service company. Whether it is a new unit installation, emergency repairs, AC tune, residential or commercial customer, we offer money-back guarantee.
Call Us TODAY to schedule services for all your cooling needs at (702) 567-0707! We'd Love to Teach you How You Can Improve Your Existing HVAC Equipment.