Top-Class Furnace Repair in Las Vegas
Since 2011, The Cooling Company has been providing outstanding furnace repair services and heating repair in Las Vegas, NV. During the winter season, temperatures tend to reach the extremes. That's why it's crucial to have a fully functional heating system in your home.
Since we're a family-owned company, we focus on supporting growing families by offering affordable quality services. We uphold family values and emphasize forming long-term bonds with our customers.
Our highly trained and experienced team offers heating repairs for all makes and models of heating equipment in the Las Vegas area.
You'll appreciate our:

EPA-certified technicians
100% customer satisfaction guarantee

Flexible appointment scheduling
Experienced technicians
We work hard to be the most responsive, reliable, and trustworthy furnace repair crew in Las Vegas. We're incredibly proud of our growing reputation as the premier heating team in the area. And we do everything we can to maintain your ongoing trust and 100% satisfaction in all that we do. We pride ourselves in our customer service. In fact, all of our services are 100% customer satisfaction guaranteed!
Fast, Effective, 24/7 Heating Repair Las Vegas
As temperatures begin to fall in Las Vegas, you count on your heating system for warmth and comfort during the entire cold season. So your air conditioning plumbing needs to be up to scratch. With more than 50 years' worth of combined exposure, we're happy to attend to your furnace or heat pump whenever you need us.
At The Cooling Company, we clearly understand the hassle involved in going through the winter season with a faulty heater in your home. That's why we're always more than willing to go the extra mile in offering prompt HVAC service in Las Vegas. We're available 24/7 to handle heat pump or furnace repair emergencies. We come highly recommended and certified by the EPA. And we will show up quickly to accurately diagnose and resolve whatever problem your home heating equipment is facing.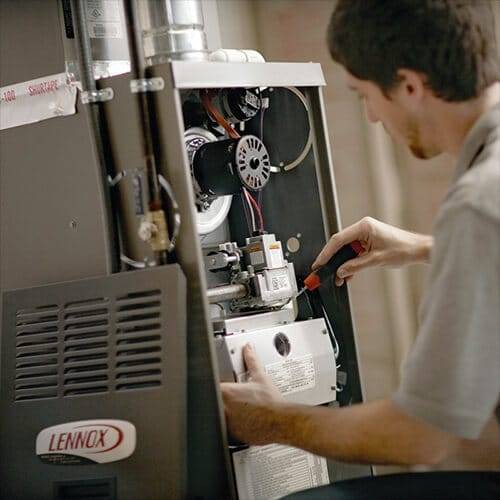 When a potential complication needs to be looked into, noticing it earlier gives you ample time to schedule heating repair services before it's too late. So, what red flags should you watch out for?
Signs your heater needs repair:
Abnormal gas odors
Unusual increase in utility bills
Loud furnace noises
Poor air quality
Difficulty starting furnace
Inadequate heat
Have you noticed any of these signs with your heater or air conditioner? The Cooling Company has the dedication, training, and tools needed for quick and accurate furnace repair services in Las Vegas. Whether it's strange noises when you turned on your heater for the first time this year, a thermostat that doesn't seem to change the temperature, or no hot air coming from a vent, we'll know just what to do.
With extensive, ongoing training and many years of experience, our technicians have seen everything that can go wrong with a heater. You can trust us to help you understand the problem and give you options for repair. We will help you find the right solution for your specific situation.
If your heater is older and the necessary repair is expensive, we can also assist you in comparing the costs and benefits of repairs vs. replacement. We never use pushy sales tactics for any air conditioning unit. Plus, we are committed to being an honest, reliable source of information that is truly right for you and your home.
Outstanding Furnace Repair and Service
If your furnace is consistently performing less-than-ideally or has been in use for many years, you should consider having an expert look at it. The Cooling Company provides furnace repair services that will save you time and money in Las Vegas.

We'll make sure your heating and cooling system is running effectively before leaving your premises. That's why you can always be sure of safe, reliable, and long-lasting services when calling our team for heating repair.
We'll aim at providing you with the comfort and contentment you've always been longing for. Put your heating and air conditioning needs in good hands. We're excited to offer you services that can make us your go-to heating repair provider.
Are you having a furnace problem and not sure what step to take? For any repairs and installation needs contact The Cooling Company today. And we'll provide you with the best heating repair services in Las Vegas. We also offer heating installations, maintenance, and even AC repairs!
Take Advantage of our Affordable and High-Quality HVAC Repair Services.
Schedule your appointment with one of our technicians today!