If you own a business in or around Las Vegas, your commercial HVAC system is an essential operating feature. Air quality and climate control ensure that your employees and customers remain comfortable. Plus any merchandise sensitive to temperature changes won't lose its appearance or freshness. So you need an adequate air conditioning unit. When it comes to HVAC repair, Las Vegas has a lot to say.
Sometimes you just need a new commercial air conditioner installed. Or maybe you need some upgrades to increase value. Or even an emergency repair that keeps your business flow strong. So whatever the case, the HVAC system contractors at The Cooling Company have the skills and professionalism you need.
We offer a wide range of commercial HVAC services, including those listed below:
Repair
Replace/Install
Maintain
Improve
*Servicing Las Vegas, Henderson and areas near Paradise, Green Valley, Whitney Ranch, Silverado Ranch, Seven Hills and Boulder Highway.
Commercial HVAC Repair
Expert Commercial HVAC Repair Services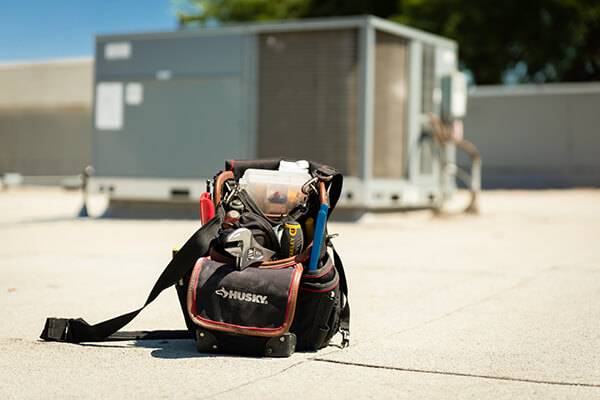 It sucks when your commercial HVAC system isn't working correctly. Especially when the summer temperatures are starting to rise. This can cause your employees and customers to become uncomfortable. And it can negatively affect your business.
If you encounter problems with your AC unit in the Las Vegas area, contact The Cooling Company. We provide fast and efficient repair service. So our professional contractors will work to correct the issue as soon as possible. In effect, the impact on your business is minimal.
Our services include:
Air conditioning repair: We repair all types of systems. From basic rooftop units to multi-zoned VRF arrangements we've worked on them.
Furnace repair: We help you prevent no-heat emergencies during cooler weather. We provide swift repair services for your commercial gas furnace or air conditioning heating unit.
Heat pump repairs: Our contractors have years of experience with older heat pumps and modern systems. And this includes new more efficient units with variable refrigerant flow (VRF).
You can count on our highly trained and experienced technicians to understand your equipment. We can help you every step of the way from air conditioning plumbing to installation. And rest assured, we know how to repair it correctly. Even if you have a legacy system or one with an unusual design, we've worked on one like it before.
We also have access to all essential parts for commercial HVAC systems in our warehouse. We are ready for your HVAC repair. Las Vegas weather can be scorching. So we know how important your cooling system is to your comfort.
Emergency HVAC Repair, Las Vegas
We do Things Different at The Cooling Company!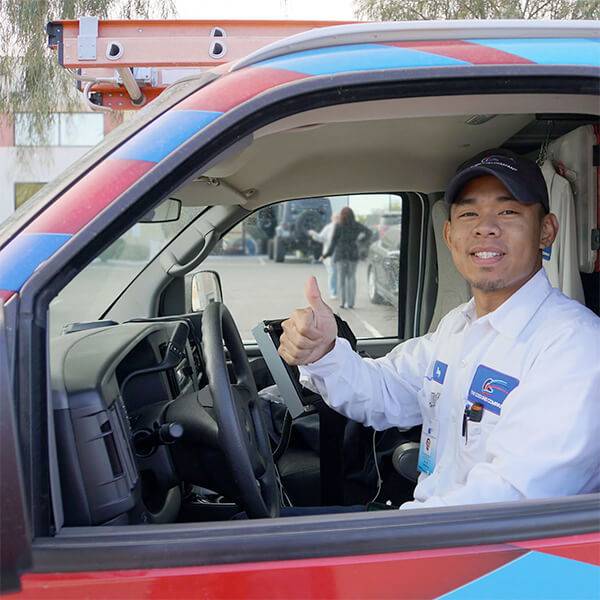 In Las Vegas, few things can cause your business to shut down quickly. But even fewer things cause this faster than being without air conditioning on a hot July afternoon. Thus, if this happens, you need qualified help immediately.
There's no time to deal with a company that has long wait times. Or even one with little experience. Additionally, it doesn't make sense to have an unprepared or inefficient company working on your HVAC system.
The Cooling Company has the personnel and parts that can get you back in business as soon as possible. Our team of contractors have worked on practically every type of commercial HVAC system out there. As such, we are dedicated to innovation and professional development. So we're familiar with all the latest HVAC technology developments, including intricate, more efficient systems.
Plus, if your broken-down system can be repaired, you can count on us to get it up and running again quickly. However, if we notice multiple issues, we will give you an honest opinion. So sometimes all you need is a repair. But other times, a new heating and cooling system is a better investment.
Want to Know More? Contact us and let's talk business!
Fast, Convenient HVAC Repair Las Vegas
Specializing in commercial and residential air conditioning repair in Las Vegas
Our Schedule
Here at The Cooling Company, we're often asked how soon we can schedule a visit to a home or business with the Las Vegas Valley.
Expect Our Call
It's our customer service goal to perform air conditioning repair service calls within 24 hours. And we're often able to perform them the same day.
Can't Wait?
During peak summer months, you may want to give us a right away. Just to make sure we can get you an appointment with one of our comfort experts.