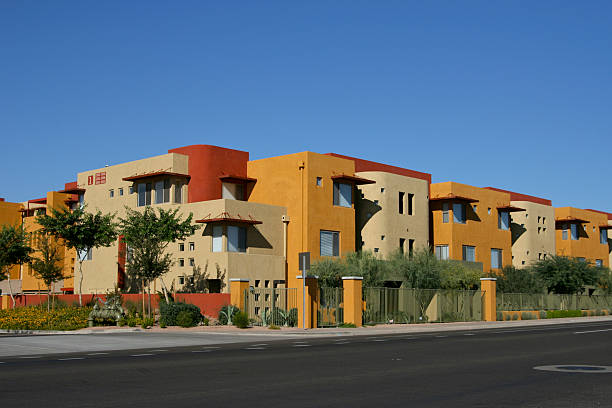 When you're the landlord or property manager of an apartment building, the last thing you want is a broken air conditioner to cause problems for your tenants. Having a reliable heating and cooling company that does regular maintenance checks can help landlords and owners have happy tenants and checkbooks.
For example, you could hire an HVAC technician who will come out every year to perform routine maintenance checks on all of your units' HVAC systems. This way, if any problems are detected early on, they can be addressed immediately. Letting them fester until they become more serious issues later on can cause expensive repairs. It's also important that these technicians are knowledgeable about all types of large heating equipment. Then they can diagnose problems correctly without having to go back and forth multiple times before arriving at an accurate diagnosis. This will save time and money while ensuring everyone is satisfied with their results!
When running a rental property, you've got a lot going on, and you're probably not thinking about your air conditioner right now. However, sooner or later, it'll start to act up. Then you'll realize just how vital HVAC maintenance is, especially if the weather gets extreme.
What to Expect from AC Maintenance for Your Entire Apartment Building
Your HVAC company will do several things during AC maintenance.
First, they will visually inspect the following:
condenser
evaporator
compressor
They will look for any signs of wear or damage. After inspecting the air conditioner, they will clean it to remove any dirt or debris that may have accumulated over time. They will also clean the condenser coil of dirt and debris so that it can work more efficiently.
The HVAC company will also inspect the ductwork to ensure it is in good condition and working properly. If you are considering upgrading your HVAC equipment, the HVAC technician will determine if there are any problems with your ductwork. If there is, the ductwork will need to be replaced before you can install an efficient cooling system in your apartment building. Of course, the last thing that needs to be done during AC maintenance for your entire apartment building is cleaning out the drain line on your unit so that water does not get trapped inside and cause mold growth later down the road!
Is your air conditioning system in need of a tune-up? If so, you might wonder what exactly the HVAC company will do during AC maintenance for your entire apartment building.
Here's a quick look at what to expect from this service:
1. Cleaning and Inspection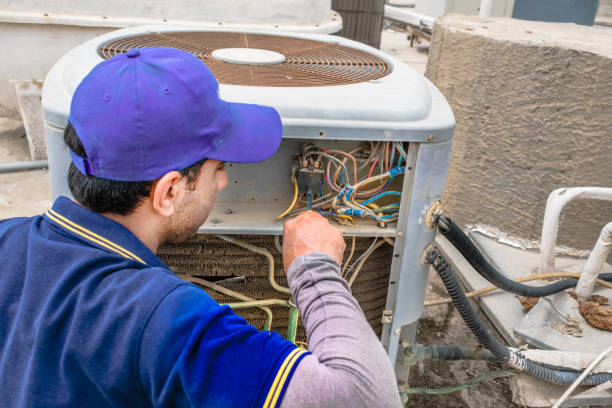 The first step is for the technicians to clean the air filters to remove debris blocking airflow. They'll also ensure all components are functioning properly. Plus, they will check for signs of wear and tear that might need repair or replacement.
2. Testing and Balancing
The HVAC technicians will test your system's temperature settings using a thermometer. They can then adjust them accordingly by adjusting the thermostat if necessary. They'll also balance the refrigerant charge in your unit. This will ensure that it runs at maximum efficiency without wasting energy or costing more money than necessary. In addition, having the system balanced and tested will keep costs on repairs or replacements low. During this time, the professional technician can monitor faulty components like compressors or evaporators, which are common problems with older systems.
3. Check the Outside Unit
The HVAC technician performing maintenance will ensure it's clean and check the filter to see if any debris or dirt is blocking airflow. If there is, they will clean it out.
4. Check the Compressor
The compressor brings cool air into your home. The technician will clean or replace it if it's dirty or broken.
5. Check Your Refrigerant Levels
During your tune-up, the HVAC professional will make sure the refrigerant levels are appropriately balanced. If they aren't, they adjust them so that they are. They will inspect your refrigerant levels and ensure they're at optimal levels before closing our work order with our customer service team.
6. Check All Your Air Conditioner's Electrical Components
The electrical part of your HVAC system is important. Your maintenance technician will ensure there are no problems with them. If there are, they will be repaired or replaced as needed.
Routine maintenance ensures your system is installed correctly and functioning as it should be. This includes inspecting all system components for leaks and other problems. The HVAC company will let you know if any damaged or malfunctioning parts need repair. That way, you can decide whether to make those repairs yourself or call the experts to do it for you.
A trustworthy HVAC company will provide recommendations on maintaining the system best moving forward.
What to Expect from an AC Maintenance Contract
What goes into an AC maintenance contract? What does the HVAC company do for maintenance? Do they come more than once a year?
The answer is a lot! Here are some things you can expect from a professional HVAC company at your rental unit during annual maintenance. Some apartment owners have HVAC companies come in more often. They do routine maintenance and are on top of the annual checks as well.
Here's a quick rundown of what you can expect from an AC maintenance contract:
Cleaning and sanitizing the condenser coils. Visually inspect the condenser for oil deposits, debris, etc. Apply pressure gauges to check operating pressures. Your cooling unit has coils that collect dust and debris as it runs. If this isn't regularly cleaned, it can result in significant problems down the road. For example, higher electricity bills and reduced efficiency. The HVAC technician will clean your air conditioner's coils, keeping them functioning at their best
Checking for leaks in the system. Regularly checking your system for leaks or damage can help prevent major problems down the road—like higher electricity bills and reduced efficiency
Replacing any parts that are worn out or damaged that could lead to future problems
Make sure all of the filters are cleaned and working properly. Change 1 Inch filters or specialty filters (if applicable)

Inspecting your thermostat, as well as all wiring within your unit's walls
A thorough cleaning of your entire HVAC system. This includes the system located inside and outside the building
A deep cleaning of all indoor air ducts and vents
An inspection of all electrical components to ensure they're functioning correctly and won't lead to problems later on down the road. Follow wiring / electrical connections and ensure proper placement
Draw readings of the capacitor and start components
Replace damaged parts with new ones that meet current industry standards. At The Cooling Company, as part of our commitment to customer satisfaction, we always offer competitive pricing on new parts and labor.
Take readings on refrigerant levels and visually inspect for any leaks. Note whether the refrigerant is R-22 or R-410A
Inspect the disconnect box, confirm the correct wire size, and tighten connections
Check return and supply air temperatures
Take a reading of the defrost cycle / supplemental heating and ensure it is at factory specifications
Check superheat
Inspect air entering the outdoor coil. Visually inspect the indoor coil for debris. (If a water source such as a hose is available and near the coil, a light rinse may be performed)
Check the blower motor function as well as the belt tension. Collect amperage and voltage from the blower and condenser fan motor and ensure they are at factory specifications
Inspect the outdoor fan motor function. Ensure the fan blade is tightened and lubricated as needed
Inspect the condensation pump function
Inspect the contactor connection and electrical components
Check suction line temperature and pressures
Inspect service valves
Inspect the metering device
Is It a Good Idea to Have an Annual AC Maintenance Contract In Place With a Trusted HVAC Company?
AC maintenance is important, but it can be overwhelming to figure out how often you need maintenance, who should do it, and whether or not you even need a contract. We're here to help!
Here are the top things you need to know about AC maintenance for your entire apartment complex:
An annual AC maintenance contract is a good idea if you want to avoid costly repairs.
Your HVAC company should be licensed and certified by the government to get an annual AC maintenance contract.
Regular maintenance will keep your system running smoothly and avoid unexpected breakdowns.
Having a relationship with your HVAC company ensures you have someone available for any HVAC maintenance emergencies.
It's a good idea to have an annual AC maintenance contract with a trusted HVAC company. However, if your AC is older than ten years or has never been serviced, it might be worth your while to invest in a new energy-efficient model. This is because older AC units are more likely to have problems and need repairs when not regularly maintained. On the other hand, newer systems may have fewer issues and save money on energy and utility bills. However, they still need regular maintenance to keep running smoothly.
AC maintenance contracts can help you save money and extend the life of your equipment, which is excellent for both your budget and the environment.
Before you sign on with any contractor, ask about their:
Services: how long they have been in business and what jobs they've worked on in the past. You want to ensure they have experience working on AC systems like yours and can provide the level of service you need.
Insurance Coverage: that way, if anything goes wrong while they're on-site, someone can take responsibility for it. Then the company can cover any damages or injuries as a result.
What to Look for in an HVAC Company
AC maintenance contracts can help you save money and extend the life of your equipment; which is great for your budget and the environment.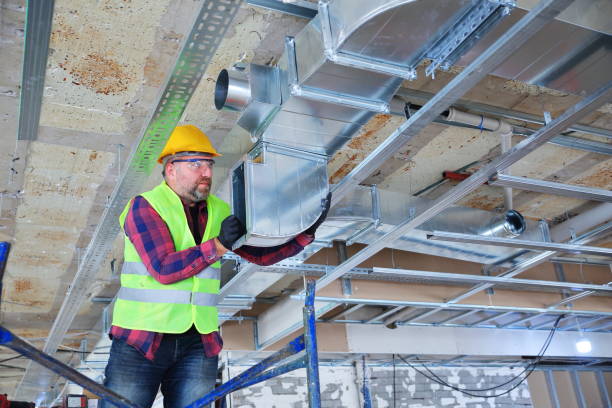 If you're a landlord or property manager, you know that keeping your tenants happy is a top priority. To do that, you must be proactive about your building's central air conditioner maintenance and ensure it runs as efficiently as possible.
At The Cooling Company, we've been providing HVAC services for apartment buildings in Las Vegas and surrounding areas for years. We take pride in our work and offer top-notch services at affordable prices. So if you're looking for the best AC maintenance service for your entire apartment building, give us a call today! The Cooling Company is here to help you with all your HVAC needs. We've been in the business with a combined 50 years of HVAC service. We know that your apartment building's HVAC system is a major part of your rental community. That's why we take care of it with the same passion and dedication we use in every service we offer.
Our technicians are ready to help you keep your HVAC system running smoothly and efficiently with our annual maintenance program. We'll come out regularly, or bi-annually, to ensure everything is working properly for your heating in the winter and cooling in the dummer. Our techs will clean out any dust or debris clogging up the filters, and make repairs where necessary.
Did you know that we have a 12-month buy-back guarantee and a Platinum Maintenance Plan. Our Platinum Maintenance Plan will help keep your system tuned and ready for summer or winter!
Here at The Cooling Company, we're often asked how soon we can schedule a visit to a home or business within the Las Vegas Valley. It's our goal to perform air conditioning repair service calls within 24 hours, and we're often able to perform them the same day.
If you have any questions about what this service entails or would like to schedule an appointment, give us a call!