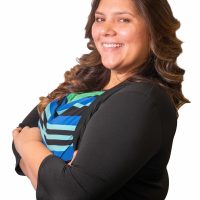 Teressa Inventory Controller
My name is Teressa Campos and I am the Inventory Controller with over three years of experience in warehouse/inventory/shipping & receiving. At a young age, I was showy, outgoing, curious, and eager to help others and accomplish goals. Originally from California, I moved to Las Vegas as my single mother of three Charlynn worked for a trucking company here. 
In her spare time, Teressa enjoys doing anything fun and beneficial with friends and family, singing karaoke in the shower, in her car, and working on her family business with her little brother Chase. Tessa continues to go above and beyond to keep the warehouse running effectively and smoothly. Whether that means calling all techs and installers in to ensure part accuracy or lending a helping hand to the office to learn from them and help complete tasks. She understands the importance of every technician and installer's needs. Offering the best possible parts for the most efficient rates is just a way of life for Tessa. You know you're getting quality parts upfront when you request parts with her. There isn't anything she won't notify you of upfront or anything she won't communicate to you.
It makes her happiest being able to work alongside all the great people that strive for the same goals as she does, and believes in never leaving the warehouse unless she has fully prepared everything needed for techs, installers, and customers. 
Tessa loves knowing that her new presence on the team helps The Cooling Company work efficiently and fast. She's eager and ready to spend a long time with us and help the Vegas Valley stay cool.