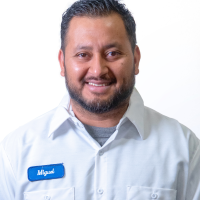 Miguel Rosario Commercial Installer
I am originally from Acapulco, Mexico, and I moved here with my family many years ago. I enjoy spending quality time with my 3 beautiful children and family in my spare time. We spend a lot of time doing outdoor activities like off-roading, hiking, and kayaking.
I continue to go above and beyond to keep my customers happy, whether this means staying late or coming to their place early.
I understand the importance of every client's concern. I make sure to offer the best possible solution tied with the most efficient rates. Without a doubt, this is the way of life for me! I assure to provide you with quality service upfront if you schedule with me. There is nothing I won't notify or communicate to you upfront.