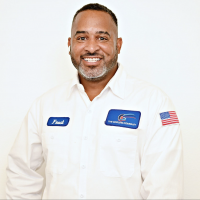 Keenan Frost-King HVAC Technician
Originally from the Oakland Bay Area, Keenan was raised on loyalty, supporting everything local. Shouting things like "Go Warriors, Raiders, A's, Giants, 49ers!" was just a way of life for Keenan. Having a father who was raised as a navy seal, he was taught at an early age that consistency and kindness were key- and always be at the foreground. As a navy brat, he was taught many skills, whether it be the focus from his step-father (who was an aircraft mechanic) or personability from his mother who worked as a Military respiratory therapist practitioner.
An enthusiastic Taurus with 1 year of experience in the HVAC industry. Born in San Diego, I have raised a military brat and previously worked as a radio DJ and on-air personality. I'm eager for every day and look forward to each and every customer I'm able to assist.
Frost has a great educational background attending San Francisco State and you'll P for his graduate degree. For his technical training he attend a technical school in Nevada where he got his opportunity to work for a carrier dealer and get a lot of his knowledge on how to fix AC units before coming to The Cooling Company in 2021. Frost has a commitment to live up to his name and get your house to the comfort level that you want he looks forward to working with every household in the Las Vegas Henderson valley.