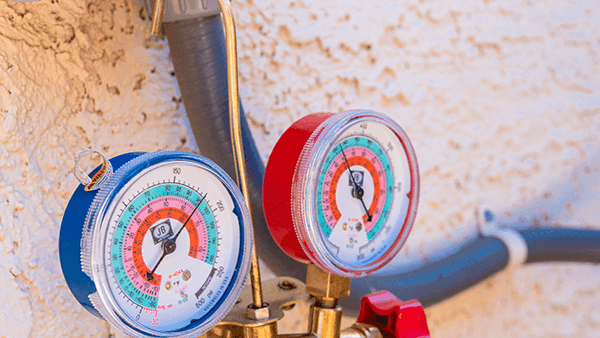 The experts at TCC are happy to help!
Air conditioner breakdowns always seem to occur at the most inconvenient times, like a day when the thermometer exceeds the 100-degree mark. These are conditions that can drive an aging or faulty system beyond its capabilities.
The Cooling Company provides professional air conditioner repair services to homeowners in and around Las Vegas. Using only licensed and certified technicians, we ensure that your system has as little downtime as possible, especially during the height of summer. All of our service vehicles carry a wide range of parts, allowing our technicians to readily service all A/C makes and models on-site.
Our friendly and knowledgeable HVAC specialists will recommend repairs and upgrades based on their efficiency and ease of service while answering any questions you may have. For your convenience, we also offer both residential and commercial service contracts to suit your maintenance needs.
Signs That Your Air Conditioner Needs Repairs
When your air conditioner breaks down, it's a stressful and uncomfortable experience. The good news is that in most cases, air conditioners breakdown doesn't happen out of the blue.
Signs like the following are all indicators that your system may soon stop:
Cooling is uneven in your home
Your home is too warm
Your home is humid
Your energy bills are going up
Your air conditioner makes strange noises
Airflow is low
Fluid is pooling around your air conditioner
Common Reasons Why A/C Units Need Repair
Below are some common causes of air conditioner breakdown that an HVAC technician may bring to your attention:
The Coils Have Frozen
Refrigerant Is Leaking
Common sources of a refrigerant leak include:
Vibration damage
Weakened joints or connections in the heat pump or air conditioner
Indoor coil corrosion due to pollutants such as air fresheners
Chemical cleaners
Hair spray
Strained Capacitors and Contactors
Electrical Problems
The Blower Fan Is Damaged
The Thermostat Is Defective
The System is Older
The most common air conditioner malfunctions that Las Vegas and Henderson homeowners face include:
Issues with the condenser, coil, or fan
Low refrigerant normally due to a leak
Broken or faulty thermostats
Condenser capacitor from debris and lack of maintenance
Wiring problems
Additional issues caused from not changing the air filters inside of your home

Air Conditioning Repair
Does Your Air Conditioner Need to be Replaced?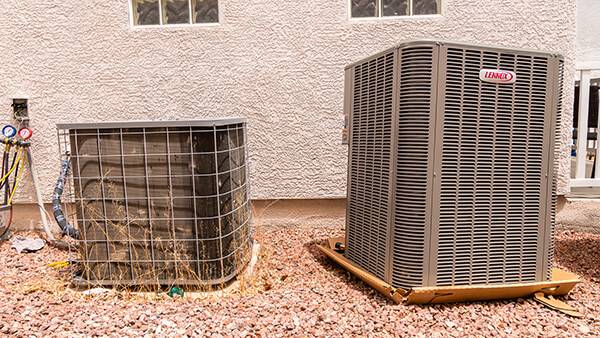 If your unit is older and continually breaking down, it may not be economically feasible for you to keep spending money on repairs. A new central air conditioner can significantly improve your home's efficiency by requiring less energy to do its job. According to Energy.gov, today's top AC units use 30 to 50% less energy when producing the same amount of cooling as an older unit.
Another reason for replacing your A/C is a Seasonal Energy Efficiency Ratio (SEER) rating of less than 14. Before 2006, the minimum required Seasonal Energy Efficiency Ratio (SEER) in Las Vegas was 10. Today, federal law sets the minimum SEER rating at 13 and the state of Nevada requires a SEER of 14. In a hot climate, an older unit could cost you so much that replacing it is a financially smart move.

Ventilation Repair Services
Bring Your Comfort Back To You
Ventilation can be a real issue that can affect the way your system delivers air all throughout your home. If some rooms in your home are taking longer to cool down or heat up, you might want us to check that. Our ventilation repair services can improve your home's indoor air quality, airflow, and much more.
At The Cooling Company, we go the extra mile to ensure that the repair of your residential air conditioner is a hassle-free experience with results that save you money. If your HVAC system unexpectedly breaks down, we've got you covered with same-day servicing and will thoroughly inspect your unit to determine whether a repair or replacement would be the most viable option for you.
Our licensed and certified A/C repair professionals have years of experience in repairing all kinds of cooling systems, from the smallest ductless split air conditioner to the huge models designed to cool complex warehouses. If you need a fast quote for scheduled or emergency repairs, please call The Cooling Company at (702) 790-8277.
Looking for the best A/C Repair Services? The Cooling Company is the place to call
(702) 790-8277

Looking for Something Else?
Get to Know our other HVAC Services.
Replace
At The Cooling Company, it's important to us that you make the best decision for your family when it comes to replacing your air conditioning and heating systems.