HVAC installation is a very technical craft. So it's essential to understand all the parts that make this process run smoothly. If a unit is not correctly installed, it could lead to wasted energy and cost more in the long run. So we're happy to help guide families and businesses through the process.
Heating, Ventilation, and Air Conditioning (HVAC) are essential for modern-day living. We rely on HVAC systems to manage the temperature of our homes and businesses and provide us with clean and fresh air daily.
HVAC installation can be stressful and scary…if you're a DIYer! So most people don't do it themselves. Instead, they hire a professional HVAC company that has the experience to restore their home to comfort. Your family shouldn't have to deal with heat or energy inefficiency because you didn't call a professional tech. So with summer edging closer, it's the best time to find an excellent HVAC contractor to help you choose the right equipment. A good HVAC tech will install your equipment without causing leaks in the ducts! Leaky ducts are an expensive problem. Leaks can leave the ceiling and walls in poor condition. That's where a condensate drain comes in handy to catch excess water before it can cause damage.
We all experience different types of weather throughout the year. Knowing more about heating systems becomes essential as temperatures drop. Similarly, as the weather warms up, you need to consider AC. HVAC installation is the next big step after purchasing a new home. However, homeowners don't always know what to ask their HVAC contractor about HVAC installation. Here are some tips for what you should know about HVAC installation as a service tech.
What It Takes To Be An HVAC Installer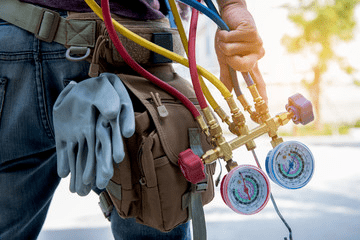 Having been in this industry for a long time, we know many people are looking for jobs in this field. So trying to find what it takes to be an HVAC installer is not a bad idea.
The first thing you need to do is make sure that you have the skills and knowledge necessary for becoming an HVAC installer. This includes being knowledgeable enough to answer any questions that homeowners might ask during the installation.
You will get hands-on training when you join our team to prepare for this. At the same time you should consider taking some classes to improve your knowledge. Plus, it shows a good bit of initiative on your part to make that decision. It screams foresight, ambition, and determination!
Remember, many families across Las Vegas and other areas trust us to provide them with a comfortable home, especially in the summer months. So along with the knowledge and skills you already have, we'll make sure you are NATE and EPA-certified to prove it, too. Certification is an essential step in the process. That's how people know they can trust us to do the job correctly.
Must-haves
To become an HVAC installer, you need to read blueprints, understand how heating systems work, and solve problems during installation. There are a few things that you must have to work in this field. You will need your high school diploma or a GED. And you will need some training that shows that you know how to install new HVAC systems.
What to expect on the job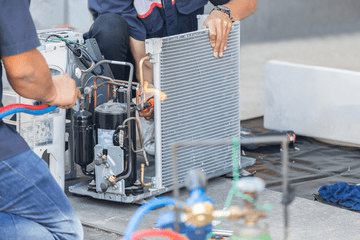 Once you're on the job, know that you will spend a lot of time on your feet or navigating a crawl space. You will be at work most days before the sun comes up and well after it sets. There isn't a typical workday as far as hours are concerned since some days, you will be crawling through attics or climbing on ladders for most of your day. And on other days, you can be helping out with maintenance around the office or warehouse. It all depends on what's needed each day and how many workers are on the job.
When the weather is nice, you might start working from 6 am until 4 pm. However, on rainy or snowy days, you may not get started until 9 or 10 am and finish around 5 pm or later if many jobs are available.
Tools used during an HVAC system installation
HVAC installation tools are typically made of metal and plastic, making them durable. In addition, the tools are usually light enough to be used with one hand.
HVAC installation tools vary in design for different purposes. Therefore, the durability of an HVAC installation tool depends on the intended use. Commonly used HVAC installation tools include hammers, wrenches, screwdrivers, and pliers. Techs use these tools in different ways. For example, you can use a wrench or screwdriver to tighten and loosen parts or joints in the new unit. Techs also use tubing benders, ductwork installers, soldering guns, and heat guns.
A few other necessary tools to have on hand for HVAC installation include a level, tape measure, and scissors. You might also want a pencil and marker. A wrench and screwdriver are also needed when installing a new thermostat. Using a thermostat is the best option to control indoor conditions and save money on energy.
Let's look at a few HVAC installation tools in more detail.
Screwdrivers and screw guns


As a service tech, you will be working on different types and sizes of HVAC units with various screw sizes. For this, you will need to have a range of screwdrivers in your tool kit.A screw gun is another valuable tool to have. While it does the same thing as a screwdriver, a screw gun requires less effort from you. So it comes in handy when you're working in tight spaces. Instead of manually putting each screw into place, a screw gun drives screws automatically into position. In addition, this tool is equipped with a clip where you can have extra screws already loaded and ready to use.

Duct benders

Installers use duct benders to bend metal sheets into various shapes. Duct benders come in two types: manual and pneumatic.

Duct cutters

HVAC installers use duct cutters to cut construction materials like metal sheets into various shapes. Then these metal sheets become the ductwork that supports your central air conditioner. Without adequately installed ductwork, there won't be proper airflow.

Tongs

HVAC contractors use tongs to remove ductwork from an opening. Likewise, tongs are good for removing parts of the new AC unit during an installation without causing damage. Tongs come in various sizes with different gripping capacities. They can be handheld or mounted onto an extension pole for more reach.

Hammers

Hammers are used when installing HVAC systems that are lagged with fiberglass insulation or spray foam insulation. The hammer breaks up the lagging material where it meets the slot on the register boot. The hammer also breaks up any lagging around the pipe at a 90-degree angle from the register boot.In addition, you can use hammers to remove return registers from a heat exchanger when replacing them with new register boots. Hammers also help to extract parts from an HVAC system during installation and repair work.

Gauges

Gauges are another vital part of your tool kit as an HVAC tech. For example, you will use a readout gauge for pressure checks when working with refrigerants. There are different types of refrigerants used in the HVAC industry. And each has a unique pressure requirement for optimal efficiency and safety. Readout gauges can either be digital or analog, but the purpose is to monitor vacuum or pressure in the unit.You will also get familiar with manifold gauges on the job. For example, manifold gauges come in handy when dealing with a system with old or contaminated refrigerant. HVAC service techs use manifold gauges to get rid of the contaminated refrigerant without it getting in contact with their skin.
The HVAC installation process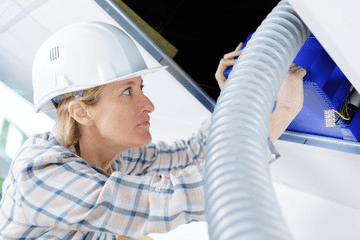 When you need a new HVAC system installed at your home or commercial building, you want to ensure that the job gets done correctly. For this reason, homeowners and business owners have to find and schedule time with a professional HVAC installer. The tech can help get a unit that's the right size and SEER rating for the specific need. Of course, the size of the unit chosen will depend on the size of your home or office space.
HVAC installers provide both new installation and replacement services. However, the installation process is very delicate. So if the technicians aren't well-versed in installing a new heating and cooling system, they may not do it correctly. A poorly installed HVAC system can cause various respiratory problems, including asthma. If a poorly installed or poorly maintained HVAC system remains in use, it can start spreading bacteria and viruses. Potentially making people get sick.
Step 1:
First, there will be a thorough site evaluation. The technician will measure the room or site where they plan on installing the unit. Once they have finished measuring the layout, they will know how much space is available. Then, they can mark off an area to put the unit.
Step 2:
The next step in an AC unit installation is to cut out an opening for the outside unit. For this, a saw is used to cut through the wall. So, you can understand why this needs to be done only by experts.
After this stage the tech will install a metal sleeve around that hole so no one will be able to see it from the outside of your home. The inside portion of this sleeve will be attached with screws to remain securely in place.
Step 3:
The next step is to lay insulation around the cut section of the wall. This is a crucial step. Lack of insulation is a significant issue. The insulation ensures that outside air cannot come in and indoor air does not escape. Insulation plays a vital role in energy efficiency and how effective the central air or HVAC system will be.
Setting up the HVAC unit
The installer will determine the number of refrigerant lines needed for the system. Refrigerant lines conduct refrigerant through the system to cool a space.
Then, they will install the duct system (or replace the current ductwork) consisting of different air ducts. The ductwork is a significant part of your system. These air ducts carry cool air throughout the building. They work with the air handler to control how much air gets in and out.
Next, the technician will connect the ducts to the outdoor unit. The outdoor unit takes the unwanted heat from inside and pushes it outside when using your AC.
After that, it's time to connect the refrigerant lines from indoor to outdoor units.
Lastly, the tech will complete the inspection on work performed and then hand over the operation of the HVAC system to the customer.
Different types of HVAC installation
Split System
A split system is the most common type of HVAC installation you'll see in a home. It consists of two parts: an outdoor unit and an indoor unit. The outdoor unit contains all of the components responsible for air circulation outside your home. While the indoor unit, as the name suggests, is responsible for indoors.
Heat Pumps
Heat pumps are a hybrid system that utilizes both heating and air conditioning to regulate cool air. The important thing to note is that you can use a heat pump instead of a furnace or an air conditioner.
Air Conditioning
Air conditioners work by removing moisture from inside the home and circulating cool air through the building's ducts.
Become an HVAC installer
Now you know what it takes to install a new air conditioner. There's a growing demand for HVAC technicians, so get certified for what you know best.
With the Las Vegas summers getting hotter every year, it's easy to see the need for a new system to replace older models. While some people need to replace parts, depending on the age of the unit, the entire HVAC system may need to go. Furthermore, doing repairs versus replacing is an important decision that many people struggle to make. In cases like this, it's an excellent opportunity for HVAC representatives to show expertise and advise the customer.
HVAC installers or technicians are comfort providers. Imagine what the quality of life would look like for many families and businesses without HVAC professionals to ensure healthy indoor air quality and temperature control.
We are the go-to HVAC company in Las Vegas and Southern Nevada for a good reason. We've spent the better part of a decade getting to know and service this area. So join our team today! You'll be backed by a reputable HVAC company with over 50 years of combined industry experience to ensure your success.