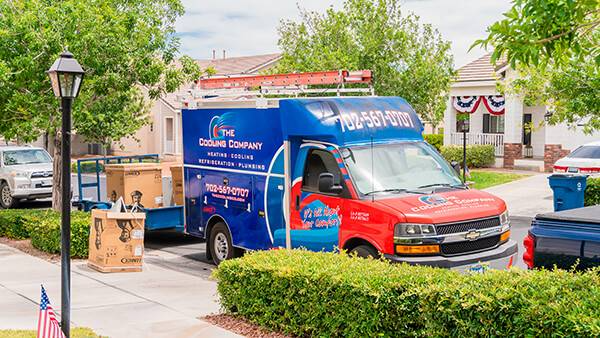 When choosing a heating company in North Las Vegas, there are a few things you'll want to keep in mind.
First, you should ask yourself how much time you will spend evaluating different companies. If you're looking for an immediate solution and don't have time to look at multiple options, you may think it best to call the first number that pops up on Google. However, if you'd rather take your time and find the perfect fit for your home and needs, then it's worth looking through your options before deciding. Your HVAC company is really more of a partnership. They should be someone you trust to call annually for maintenance and when in immediate need.
Second, consider what type of heating system you want to be installed in your home.
Do you want something that will last for years with minimal maintenance?
Do you need something that can be repaired quickly if anything goes wrong?
There are several different types of heaters available on the market today:
gas heaters
electric heaters (including radiant flooring)
wood-burning stoves
Each one has its own pros and cons when it comes to energy efficiency and longevity.
Finally, consider whether or not having an expert install your system might be worth the extra cost. If they charge more than other companies, but their workmanship is impeccable, with fewer problems or negative customer reviews, then maybe it's worth paying more upfront.
What Should I Look for In an HVAC Company
When looking for a heating company in North Las Vegas, it can be hard to know what you should be looking for.
One of the best things about Yelp and Google is that they give you an idea of how people feel about a business before you use them. They also allow people who have used the same service to provide you with their experience.
How Long Have They Been in Business?
The longer they've been around, the better chance they've had to get their name out there and ensure their business is solid.
Do They Offer Services Beyond Just Heating?
If they do, that could mean air conditioner repairs, so your home stays comfortable year-round, no matter what time of year it is.
What is an HVAC System
HVAC stands for Heating, Ventilation, and Air Conditioning services. HVAC systems are used to regulate temperature and humidity in a building or space. They can be found in homes, offices, schools, and other buildings. HVAC systems vary from system to system, but they all work with the same goal in mind.
An HVAC equipment's main job is to bring outside air inside the building through an entranceway, such as a window or door. The next step is to filter out dust particles, insects, and other particles that may be harmful to humans before bringing them into the building. Once the air has been filtered, it is sent through a heating coil, where it becomes warm enough to be comfortable for humans living inside the building. This warm air then travels throughout the entire building through ducts and vents. Then everyone can feel comfortable no matter where they are standing or sitting at any given time during their day-to-day routines within their home/office area(s).
HVAC units also use cool air during hot summer months when it get too hot outside to maintain a comfortable temperature within your home. It's a system that provides a comfortable environment for your home or office.
The HVAC system has three main components:
Heating: heats the air in your home or office
Ventilation: moves air through your home or office
Air conditioning: cools the air in your home or office
Heating Repair and Maintenance in North Las Vegas
Heating repair and maintenance in North Las Vegas is a service that can be performed by a professional, so you don't have to worry about doing it yourself. A heating technician will come to your home to ensure your heating system is working properly. They will then review the best way to maintain the system to help you know how to keep it running smoothly.
Heating repair and maintenance in North Las Vegas is important because if something goes wrong with your system, you could lose heat during one of the coldest months of the year. Of course, you don't want this to happen! That's why it's important to schedule regular maintenance visits with a professional who can ensure everything is working properly.
Our expert heating technicians at The Cooling Company can work on all makes and models of heaters in North Las Vegas. Whether your furnace won't turn on or makes strange noises and smells, we can diagnose the cause of the issue. You can trust our skilled technicians to figure out exactly why your heater isn't working the way it should and give you a cost estimate for any recommended heating service.
If you choose us for the repair, we'll always use quality replacement parts and test our work. For emergencies, we're happy to provide 24/7 heating repair availability. It's all part of why the  North Las Vegas residents trust our team for the very best in heating system repair.
Detailed Heating Installation In North Las Vegas
The Cooling Company aims to eliminate the stress of getting a new heating system for your North Las Vegas home. Our heating services are easy to schedule, and we arrive at all of our North Las Vegas appointments on time. We can help you choose the right heating system for your house and budget.
Flexible financing options are offered on approved credit to make your payment easy. Our heating company wants everything we do in North Las Vegas to be a great value. For customer confidence, we offer a 12-month buy-back guarantee on all systems we install. As your trusted local Lennox Premier Dealer, we have an extensive selection of top-rated heating systems. We're always happy to help you narrow down your choices, giving you properly sized systems that will meet your budget.
Our team can also explain any upgraded features you may want, including:
high-efficiency models that will lower your heating costs
whole-home air purification add-ons
smart thermostats
Valuable Heating Routine Maintenance In North Las Vegas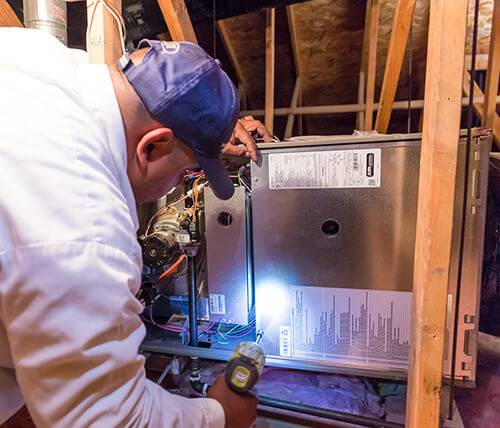 As a homeowner, when you need heating repair or maintenance in the North Las Vegas area, you want to know that your heating unit is in good hands. In addition, you want the comfort of knowing that the professionals you're working with are going to treat your home and family with respect and get the job done right. At The Cooling Company, we take pride in our reputation and strive to ensure that every client receives the same high level of service every time they call us.
We offer:
Licensed, certified technicians
24/7 emergency services
Competitive pricing on all repairs and new installations
As soon as you notice any issues with your heat, it's time to get a heating check-up. Whether you're noticing your home is too cold or your bills are higher than usual, it's always best to take care of these issues as soon as they arise. With a heating check-up, you can be confident that the problems are being taken care of by a professional and will no longer be an issue.
The Cooling Company is proud to be a highly reputable heating company in North Las Vegas, Nevada. Since 2011, our family-owned and operated company continually focuses on exceeding customer expectations. Winter months in the Las Vegas Valley can get cold, and having a heating system you can trust is important. If you need a heating service or a replacement system, our team is a great choice for quality results! With more than 50 years of combined experience, our team can handle both simple and complex heating requests. In addition, to make our services risk-free, all of our results come with a 100% customer satisfaction guarantee. That means you'll be completely satisfied with our products and services, or we'll do everything we can to get it right.
About Our North Las Vegas Heating Company:
The Cooling Company:
is EPA-certified
provides personalized services
has open lines of communication
For your confidence in choosing our North Las Vegas heating company, we thoroughly vet and conduct background checks on all our professional technicians and team members. In addition, our comfort specialists are all highly experienced and dedicated to your complete indoor comfort in everything we do. That's why we continue to grow our reputation as the best choice for heating in the area!
The heating services offered by The Cooling Company could save you a lot of money on your North Las Vegas heating bills.
Getting an annual tune-up for your system can keep it clean and functional. Our HVAC technicians will ensure your North Las Vegas heating system has no lurking issues. We'll get everything cleaned out and adjusted. You'll receive a report of all of our findings.
Our Platinum Maintenance Plans
We also offer our Platinum Maintenance Plans! This ongoing membership allows you to maintain your HVAC system year after year.
With our Platinum package, you can enjoy**:**
discounts
benefits
priority service
Ask one of our friendly technicians if you'd like to learn more, or sign up!
We're not just a company, we're a family. We believe our customers' needs come first, and we'll do whatever it takes to ensure they get exactly what they want and need. We've been doing this for years, and in that time, we've only ever had one goal: to provide the absolute best service in the industry.
We don't take shortcuts or make sacrifices when it comes to quality. Our experts know everything about every aspect of your HVAC system. So when you work with us, you'll have peace of mind knowing everything is done right by people who genuinely care about helping you.
We believe the best way to help our customers is to provide them with a long-term relationship that is based on trust.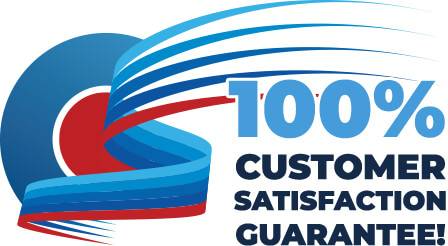 We want you to feel confident that we have your back and will do everything in our power to ensure you get the best service possible. That's why we offer a comprehensive warranty on all of our equipment.
Our crew can also help you with AC repair services! To learn more about the residential HVAC services offered by The Cooling Company in North Las Vegas, call our office today.jaja