Top Furnace Maintenance in North Las Vegas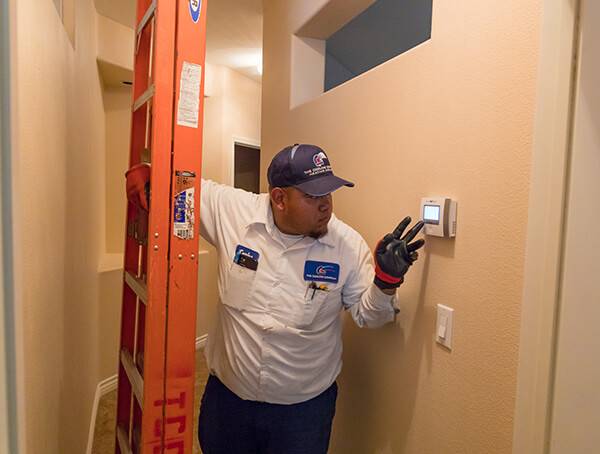 The Cooling Company can send a technician anywhere in North Las Vegas, NV, to perform heat pump or furnace maintenance. Is it time for you to have this crucial task taken care of?
All homeowners are encouraged to have maintenance performed on their heating systems at least every year, with the optimal time being in autumn or sometime before the heating season. You can rely on us because we deliver professional results while still being cordial and communicative. It's a result of us being a family-owned and -operated company!
Rest assured because we:
Have been BBB-accredited since 2012 and hold an A+ rating
Have been designated as a Dave Lennox Premier Dealer
Back up all work with a 100% customer satisfaction guarantee
Are EPA-certified and focus on keeping systems energy-efficient
Though we started in 2011, our team boasts over 50 years of combined experience. We can maintain all makes and models of furnaces and heat pumps, so no matter what type of heating equipment you rely on, we'll be able to keep it running at its best year after year. It won't be hard for you to fit us into your schedule; we're known for our heating tune-up flexibility!
Expert North Las Vegas Heating Tune-Ups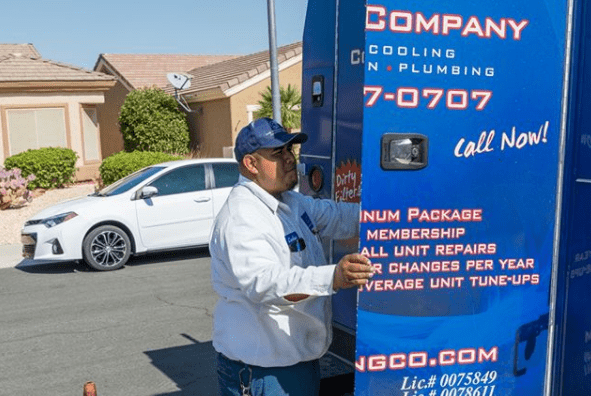 Many homeowners ask, is maintenance really necessary? If your heating system turns on and seems to run fine, it can be tempting to skip your annual maintenance. We highly encourage you to avoid this practice! In addition to your system manufacturer likely required annual preventative maintenance to maintain your warranty, there may be small issues just waiting to turn into a costly repair. Dust and debris could also be piling up inside your heater, causing poor efficiency and indoor air quality. That's why allowing our technicians to give your heater a detailed and comprehensive cleaning, inspection, and calibration is a must! By scheduling furnace maintenance before the winter weather rolls in, you'll have peace of mind knowing your heater is ready to perform like it should regardless of how cold it gets outside your home.
As for the heating tune-ups, it covers:

Visual inspections for dust and debris
Motor and fan blade lubrication
Duct and vent inspections

Electrical wiring checks
Return and supply air temperature checks
A well-maintained heat pump, mini-split, boiler, or furnace won't give you as many problems. It won't break down as much or need replacing before living up to its full potential. And you'll save each month on your utility bills. If we catch any issues, we'll let you know exactly what we found and what we recommend you do. If you want to fix a small problem, we can offer free cost estimates and often resolve these minor matters during the very same visit. That way, a larger repair down the line can be completely avoided. We'll also check your furnace filter, a very important component in your home's indoor air quality as well as the efficiency of your furnace. In some cases, we can replace the filter for you, or help you locate one that will be a good fit for your specific furnace and lifestyle.
For North Las Vegas residents, we offer a great maintenance program called our Platinum Maintenance Plan. Sign up for one of our four residential packages, and you'll receive two tune-ups a year. Membership is renewed at the end of each year. Our technicians would be happy to tell you what each package comes with, including all of the perks and benefits!
The cleaning of your heat pump or furnace is just the start to our very detailed maintenance process. Our technicians will also calibrate the thermostat so that it more accurately reads the indoor temperature. We can replace old wiring and dirty filters. If you need repairs in between our visits, these will be discounted by 15% if you're a Platinum Maintenance Plan Member.
Furnace Maintenance You Can Depend On
You can trust us for your heating tune-up in North Las Vegas because our technicians have carefully had their background checked and been trained. They're guaranteed to be drug- and alcohol-free!
Call The Cooling Company to schedule furnace maintenance in North Las Vegas or to ask about our many other services. These include heating repairs and installations, as well as AC tune-ups!